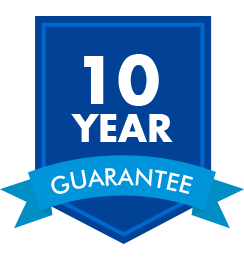 Our hydro demo replaster prep comes with a 10-year warranty against bond failure.
Hydro Demo Replaster Prep (40,000 PSI) every square inch of the original plaster surface to remove all paint, organics, weak plaster, and to create a superior anchor pattern for the new pool finish. This is the best prep process available for your pool and is unmatched in the industry. G&B's 10 year warranty protects you better than any manufacturer's warranty offered by other plaster companies. These companies are attempting to mislead you by portraying the manufacturer's warranty as their own. See how G&B separates from the competition below:
*If the pool has been replastered in the past, that layer must be removed for the 10 year guarantee to be valid. This condition cannot always be determined by a visual inspection and therefore may result in additional charges being incurred.
What is Hydro Demo Replaster Prep?
You're getting ready to close your pool down from the season and you notice it's seen better days; the plaster appears to be missing in some areas, it's a little rough to the touch and are those cracks near the pool's skimmer throat… As you go in for a closer look you start to wonder if it is time for some pool-remodeling
"We have had this pool a while" you think. "Might be time to get it redone. But as you start to do some research, you come across an unfamiliar term: hydro demo replaster.
If you are in the market for a pool remodel, read on to learn everything you need to know about the hydro demo replaster prep process offered by G&B Tile and Plaster ("G&B").
Are You Considering pool remodeling?
Plano Pool Plaster Hydro Demo Applications

Hydro Demo Applications Photos
Please take a look at our Hydro Demo Applications photos that shows our unique method of pool plastering that exceeds industry standards.
Why Our Process is the Best